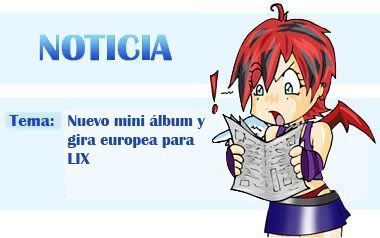 El grupo de visual kei LIX ha anunciado que lanzará su primer mini álbum, junto a su nuevo vocal Chihiro, para el próximo día 11 de Mayo.
El nuevo trabajo se titulará "SICKS RAIN" y saldrá en un solo formato de un CD con un total de 7 canciones.
"SICKS RAIN"
CD:
01. Theme of lix [rain]
02. Gekijyou
03. Aihime
04. DEVIL'S HEAVEN
05. SICKS
06. Theme of lix [pain]
07. …Alone
Además la banda también ha anunciado que realizará su primera gira europea, la titulada "LIX – European Tour 2011" Esta empezará el día 23 de Abril en Bruselas, Bélgica y finalizará el próximo día 15 de Mayo en Münster, Alemania. 
Las entradas se pueden comprar en la página web de su promotora "Ramen Events"
"LIX – European Tour 2011"
23.04.2011 / Lugar: Gokami Café / Bruselas, Bélgica
24.04.2011 / Lugar: Beaulieu Exploitation SA / Lausana, Suiza
25.04.2011 / Lugar: InsideOut / Lieja, Bélgica
29.04.2011 / Lugar: Le Viziteur / Lille, Francia
30.04.2011 / Lugar; Le soleil de la butte / Paris, Francia
05.05.2011 / Lugar: Lugar: P60 / Amstelveen, Países Bajos
06.05.2011 / Lugar: Bingo Entertainment Club / Kiev, Ucrania
07.05.2011 / Lugar: Hot Dog's Grill'n'Bar / Moscú, Rusia
13.05.2011 / Lugar: Dock Club 412 / Marange-Silvange, Francia
14.05.2011 / Lugar: MZA Teuchelweiher / Winterthur, Suiza
15.05.2011 / Lugar: Triptychon / Münster, Alemania
Páginas web de LIX:
http://www.myspace.com/lixaltair
---
Selina